With March just around the corner it's time to start looking towards Spring and the better weather. Amongst the many celebrations during March there are two that stand out.
One is Mother's Day and the Other St Patrick's.
With that in mind we have introduced several gift ideas that won't break the bank. A personalised 'Best Mum Ever' wall plaque. Just upload your own photos for a unique gift.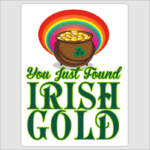 St Patrick's day too is a major celebration for people all around the World. A number of gifts, both stock items and personalised to mark this event can be found here.